Leadership Team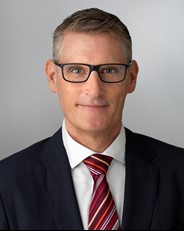 Vice President Gas and Integration Lead
Dave Jillett was appointed as leader of the Commercial Negotiations team within North West Shelf Gas Pty Ltd in January 2021. Seconded from Shell, Dave leads a team responsible for the ongoing management and administration of the obligations under the suite of contractual relationships with LNG buyers.
Dave has over 23 years of experience in the oil and gas industry, across the full hydrocarbon value chain, from exploration to shipping, and in a variety of settings including; Australia, North Asia, Russia and Europe. He has had extensive experience of LNG projects having been responsible for various aspects of Shell's interest in the NWS Project for the past 11 years and having been seconded into the Sakhalin 2 Project for 3 years. 
Dave holds a Master of Science (Geology) and is a Graduate of the Australian Institute of Company Directors.

Principal Counsel
Valeria Cooney joined North West Shelf in October 2011. 
Valeria has over 20 years' of legal experience, with a particular focus in the energy and resources sectors.   She commenced her legal career in Western Australia, and then spent 6 years working in London before returning to Perth in 2006.
Valeria holds a Bachelor of Laws degree from The University of Western Australia.