Leadership Team

President
Paul Oliver was appointed as General Manager of North West Shelf Shipping Services Company (NWSSSC) in November 2017 and as President of North West Shelf Gas in April 2018.
Paul is seconded from BP. Prior to joining the North West Shelf Venture, he was General Manager of China LNG Shipping (International) Co., Ltd. ("CLSICO") in which role he was responsible for managing the first 6 LNG ships to be built in China. He has held numerous positions in BP Shipping and BP Finance in the UK, Hong Kong and, on a previous secondment to the North West Shelf Venture, in Melbourne and Perth.
Paul holds bachelor and master degrees in naval architecture and is a Sloan Fellow of London Business School.
---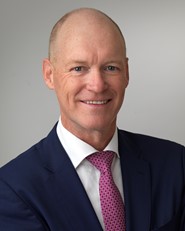 Vice President, Commercial Negotiations
Damian Johnston was appointed as leader of the Commercial Negotiations team within North West Shelf Gas Pty Ltd in December 2019. Seconded from BP, Damian leads a team responsible for the ongoing management and administration of the obligations under the suite of contractual relationships with LNG and pipeline gas buyers.
Damian has over 26 years experience in the oil and gas industry, across the full hydrocarbon value chain from retail fuel outlets to trading to upstream - spanning marketing, trading, negotiation and business development roles. He has had extensive exposure to the North West Shelf Project, having been involved directly for the past 12 years at times responsible for BP's interests but also at times engaged on behalf of the Joint Venture Partners to progress their collective interests.
Damian holds a Bachelor of Commerce, Masters of Business Administration and Masters in Business Research.

Vice President, Commercial Operations
Stewart Gallagher re-joined North West Shelf Gas in September 2020 as Vice President Commercial Operations, responsible for managing the operation and administration of the various North West Shelf joint LNG sale and purchase agreements.
 Stewart has over 34 years' experience in the oil and gas industry, having held various commercial and marketing positions in integrated gas, oil refining and petrochemical businesses based in Australia and New Zealand.  He is seconded from Woodside and his involvement with the North West Shelf Project dates back to 2002.
 Stewart holds a postgraduate degree in Chemistry from The University of Auckland, New Zealand, and an MBA (Executive) from The Australian Graduate School of Management.
---

Principal Counsel
Valeria Cooney joined North West Shelf in October 2011. 
Valeria has over 20 years' of legal experience, with a particular focus in the energy and resources sectors.   She commenced her legal career in Western Australia, and then spent 6 years working in London before returning to Perth in 2006.
Valeria holds a Bachelor of Laws degree from The University of Western Australia.